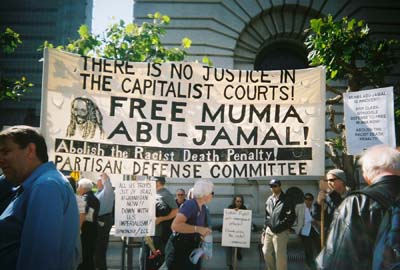 Mumia supporters gathered around the world, in Spain, Turkey, France, Italy, England, Canada. In SF, we joined nearly 300 activists awaiting news from Philadelphia's Third District Court of Appeals hearing. This three-judge court is to state whether Mumia will receive a new trial, life in prison, or execution. Supporters have made our decision: Mumia, on death row for 25 years, must be released. The defense lawyers at the May 17th hearing expressed guarded optimism. Evidence of outrageous racism surrounding the initial jury selection and statements of the judge were presented. The NAACP presented testimony. After the hearing, the defense received a request for transcripts of the initial trial, an indication of the judges' concerns about constitutional violations in the case. No decision has been reached yet. We all must remain committed, and increase pressure to bring Mumia's case forward. Mumia remains hopeful and tells all of us this case is not about him, but is a symbol of the fight in the US to end the death penalty, outlawed in most of the world.

Human and Civil Rights Committee
We welcome new members representing Senior Action Network and Older Women's League who will meet with our committee on May 21 and June 11 to plan a June mailing to prospective endorsers of the plan to amend the California Constitution with the Universal Declaration of Human Rights (UDHR). We will send our Resolution to the State Legislature in October honoring Eleanor Roosevelt's leadership role in creating the UDHR. We would welcome your participation.