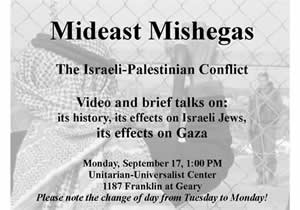 Our general meeting on September 17 was a lively discussion of the Israeli/Palestinian conflict organized by the Gray Panthers' Middle East discussion group. Howard Vicini presented a wonderful video of a program he produced last month for Channel 29 featuring five local activists: Gray Panthers Sonia Siegal, Marshall Bentzman and Michael Lyon; Joy Totah Hilden from the East Bay Dialogue Group; and Joel Franquist of Bay Area Jewish Voice for Peace. Human rights, the history of Zionism, and how the US is exploiting the Middle East for its own motives were some of the themes touched upon by the video.
Harriet Ziskin, Michael Lyon and Sonia Siegal then gave brief talks about the disasters befalling Gaza and Israel's Bedouin population, and how Israel's occupation of Palestinian land is actually hurting the Israeli economy and people.
The wide ranging discussion that followed touched on whether to support a boycott of Israeli imports, whether the best solution to the conflict was a one– or two-state plan, the role of orthodox Jews in Israeli politics—and everything in between.
Members were reminded that Michael Lyon has constructed an excellent blog, accessible through the Gray Panthers website, with a huge assortment of articles and other types of information on a variety of political issues, including the Middle East.
Some pertinent blog articles:
Israeli society pays a heavy price for occupying Palestinian lands
Israel labels Gaza 'enemy entity', cuts off Gaza's water, electricity and gas. UN warns Israel, while US backs Israel
Bedouins in Negev Desert, Israeli Citizens, live in prison-like bantustans inside Israel
Jewish Fund must sell land to Israeli Arabs
Nonviolent protest gains in West Bank
See the trailer and access information for "We," an Arundhati Roy video on the Palestine/Israel conflict from an anti-imperialist perspective.
Browse through SF Gray Panthers newsletter articles on Israel/Palestine.