David Welsh is a long-standing journalist and labor, civil rights, and anti-imperialist activist and member of the Haiti Action Committee, who has made a number of trips for observation and solidarity with the struggle of Haitians against poverty, repression, US-aided overthrow of their government, and manipulation of the country to bring it back under direct control by the United States.
He has written on the role of Haitian police, troops of the replacement government, and the UN in suppressing the working class-based Lavolas movement and terrorizing the residents of Haiti's poorest neighborhoods.
He will speak on Haiti's history as the world's first black republic and as the first country in the western hemisphere to defeat the army of a European power and throw off the yoke of colonialism. He will also discuss continuing western efforts to subjugate and impoverish Haiti and the determination of Haitians to resist this.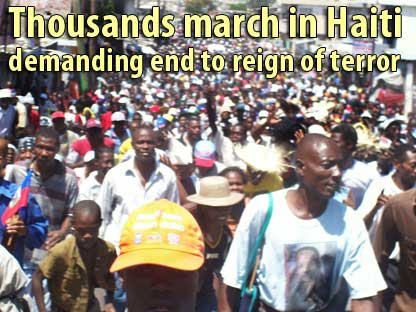 Read this recent article by David Welsh from the Haiti Action website
Other Articles of Interest
2004 Democracy Now interview with David Welsh on on death squad activities of the usurpers prior to Aristide's overthrow and conditions of workers under the new government.
David Welsh article in Amsterdam News on role of Haitian police, troops, and the United Nations in suppression of the Lavolas movement and terrorizing residents of Haiti's poorest neighborhoods.
August 2006 Democracy Now interview with the authors of a Lancet medical journal article showing 8,000 murders and 35,000 rapes and sexual assaults committed under the replacement government since 2004.
San Francisco Gray Panthers
1182 Market St, Room 203
San Francisco CA 94102
415-552-8800
graypanther-sf@sbcglobal.net