This calendar is available on-line at http://tinyurl.com/2gy6enb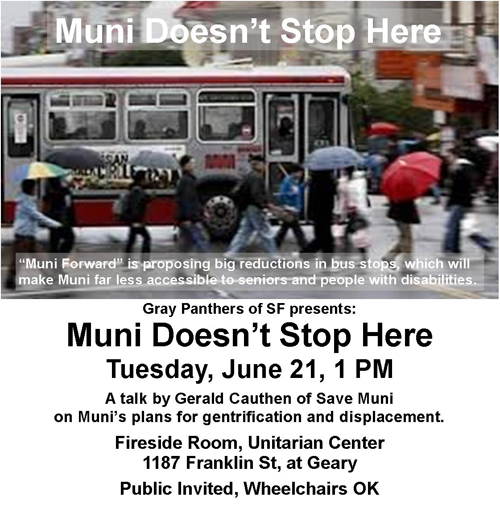 Gray Panthers Meeting SF Muni Cuts. Click here if image missing.

Anytime. E-mail Police Commission, Supervisors, and Mayor: No Tasers for SF Police. The Police Commission may be making a decision on ex-Chief Suhr's request to arm officers with tasers. See more information on tasers here. E-mail the Police Commission at sfpd.commission@sfgov.org
Mon, June 20, SF City Hall Steps. Rally at 9:30 AM, Action around Noon. Supervisors: We Demand an SF Budget for Humanity, Not Brutality! We need a budget that helps us stay here and that promotes racial, sexual, and economic justice and peace. We are particularly in funding for the Support At Home Program, a subsidy to help make in-home care more affordable. We do *not* want police funding for tasers or harassment of homeless people! Read more about the Budget Justice Coalition. Also support Avalos budget proposal to freeze $200 million of SF Police budget, about one-third, until reforms are made. Read more. Also ACCE noon rally demanding City money to buy buildings to keep families in thier homes. Read more.
Mon, June 20, 6 PM, Tell MTA NO on the Mission Street Changes! The SFMTA is finally coming to the Mission to hear concerns about the changes to Mission Street, including confusing signs and painted lanes, confused driveres endangering pedestrians and other drivers, and removed traffic lanes and curbside parking. Read more. Location: Mission Cultural Center, 2868 Mission (betw 24th & 25th Sts)
Tues, June 21, 12:30 PM, Gray Panthers General Meeting, Muni Doesn't Stop Here, on Muni's cuts in bus stops and routes. All welcome. Location: Fireside Rm of Unitarian Center, 1187 Franklin, at Gough, 38, 47, 49 buses. (See more)
Tues, June 21, 5 PM, Federal Building, 7th St & Mission. Anti-TPP Demonstration at Pelosi's Office: Bad Trade Deals Kill Good Jobs. See more.
Wed, June 22, Noon, Mexican Consulate at 532 Folsom (betw 1st & 2nd Sts), Demonstration Against Police Repression of Mexican Teachers Strike. The three major demands: 1) Stop immediately the killing (at least 8 people have been killed in Oaxaca and more than 35 wounded), 2) release the jailed leaders of the CNTE Union, and 3) stop the lethal attacks and brutal repression against the striking teachers and their supporters.
Wed, June 22, 1 PM, Gray Panthers Newsletter Committee Meeting #2. Gray Panthers office, 2940 16th St. (corner of Capp St, by 16 St BART station), 2nd Floor, Rm 200-3. 16th St BART. More info on location.
Wed, June 22, 5:30 PM, City Hall Rm 400. SF Police Commission vote on new Use-of-Force policies, *without Tasers* which will be acted on later, or possibly not at all. This vote will be on Version 1 (POA favors) or Version 2 (more safeguards). Read Coalition on Homelessness analysis of the differences and importance. Meeting Agenda.
Wed, June 22: 6-7 PM, Mission Police Station, 17th/Valencia Sts, Amilcar Perez: Time To Strategize. the DA's decision on charging police who murdered Amilcar is long overdue, but in the meantime, police broke their own rules by tampering with the crime scene. Should we act on this now?
Thurs, June 23, 3 PM, SDA Safe Streets for Seniors and People with Disabilities Town Hall #2, 111 Buchanan St, at Golden Gate. (See poster for similar event.)
Fri, June 24, 6 PM, Bayview Police Station, Demonstration Against Police Murder of Jessica Nelson Williams. 201 Williams St. (Corner of Newhall) 4 blocks from Williams Ave Metro K-T stop. Facebook Page on event.
Sat, June 25, 10 AM, OWL-SF Presentation Women and Money. Topics: Feminization of Poverty, Conscientious Investing, Finding Help in Managing Finances.
Sat, June 25, 2-4 PM, A Roof Over My Head, A Musical about the SF Housing Crisis, with Tommi Avicolli Mecca and Alison C. Wright. A reading, with live music, of their original musical that looks at the San Francisco housing crisis from the perspective of a group of tenants whose new "flip-happy" speculator-landlord is desperate to get them out and reap his outrageous profits. Musicians include Chandra Redack and Ken Schoon. Location: Safehouse Arts at 1 Grove near Market (across from the library). Read more.
Sun, June 26, 7AM, West Oakland BART. Bay Area Carpool to Sacramento to shut down Nazi-KKK-Skinhead rally at State Capitol. More info.
Mon, June 27, 11:30 AM, Gray Panthers Book Club. Celtic Café, 142 McAllister, betw Hyde & Leavenworth. Please call 415-931-1126 to confirm.
Mon, June 27. 6 PM, Vigil for Iris Canada, 99-year old Widow being evicted. The judge upheld her right to stay but awarded the landlord $100,000 in court costs, which she cannot begin to pay. Vigil is to pressure landlord to relinquish the claim. June 27 is sponsored by SDA, and is the kick-off of several days of actions by various groups.
Tues, June 28, Noon, Let's Make SF City College Free Again! Noon Rally followed by visits to SF Supervisors. Read Examiner article on Kim Proposal for aid for tuition, books, transportation, and childcare. Read more about the proposal and today's action.
Thurs, June 30, 3 PM, SDA Safe Streets for Seniors and People with Disabilities Town Hall #3, 1751 Carroll Ave (at 3rd St.). (See poster for similar event.)
Sat, July 2 - Sun, July 31: Laborfest. Complete Schedule