This calendar is available on-line at http://bit.ly/gpsf_cal
Many thanks to Adrienne Fong for many of these events.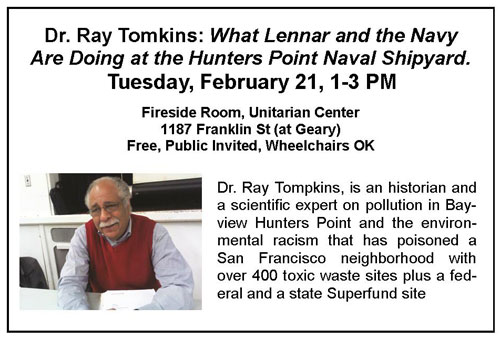 Read more about this program.

Important Gray Panther and Other Events
Join Bay Resistance against attacks on people of color, immigrants, Muslims, non-traditional genders, workers, education, health, climate and other endangered groups or issues. Sign up for email and text alert of activities: For more information or to receive email alerts, click here, and/or to receive text alerts, text RESIST to 41411. Join the ICE Response team supporting immigrant communities against immigration raids, click here.
Wednesdays, Feb 8, 15, 22, 29, 10 AM - 2 PM, Senior & Disability University presents "Medicare and Medicaid! The Fight, the Struggle, the Issues, & the Effect It Has on All of Us." Free, open to all, the classes cover the issues, and community organizing skills to advocate to protect, improve, and expand these programs. Read more.
Sun, Feb 19, 3-6 PM: March on Feinstein & Pelosi Mansions. People's Town Hall Project's assemblies and town hall speakouts at Feinstein's mansion and then at Pelosi's mansion. Read more. Assemble 3 PM at 2470 Lyon Street, at the corner of Vallejo. Map
Mon, Feb 20, Noon, SF United Against Trump Not-My-President's Day. Read more. Location: Justin Herman Plaza, foot of Market St.
Tues, Feb 21, 11:30 AM, Alameda County Sheriff Ahern, Stop Cooperating with ICE and Deporting Our Brothers and Sisters! Bay Resistance and many other groups are targeting the Alameda County Sherff's cooperation with ICE (Immigration Control & Enforcement). Read more. Location: at 11:30 AM, gather at Oakland Federal Building, 1301 Clay (at 14th St, in Downtown Oakland, 12th St. BART, map), then march 1/2 mile to Alameda Sherriff's Dept (505 6th St, at Clay, map).
Tues, Feb 21, 1 PM, Gray Panthers monthly meeting, Dr Ray Tomkins, What Lennar and the Navy Are Doing at the Hunters Point Naval Shipyard. Read more. Location: Fireside Room, Unitarian Center, 1187 Franklin St (at Geary, 38 bus.)
Wed, Feb 22, 11AM, State Capitol Bldg, Sacramento: Introducing SB 562, the Healthy California Act, providing universal coverage, no deductibles, co-pays, real patient choice, comprehensive benefits. Read more. Very limited bus space from SF and Berkeley, to register click here or email SGonzalez@CalNurses.Org. SF bus: 7:45 AM at Grove & Polk. Berkeley bus: 8:30 AM at Ashby & Adeline.
Wed, Feb 22, 6 PM, Let 100-year-old Iris Canada Back Into Her Home for Fifty Years! We will demand justice from landlords and TIC owners who forced out our black elder for profit - they wish to condo convert the building to inflate the value of their private units, all of which were once rent-controlled apartments. Read more. Location: Iris Canada's home, 670 Page (betw Seiner & Fillmore, map )
Sat, Mar 4, 1:30-5:30 PM, Bay Resistance Mass Meeting and Trainings on Resistance to Immigration Enforcement. Location and other specifics being worked out. See more.
News: SF Sheriff Hennessy Evicts 100-year-old Black Woman, Iris Canada From Home of 50 years. 48 Hills, SF Chron, Facebook updates, Videos: Sit-in in response to her eviction, The Sept 22, 2016 National Tenants Day of Action Demonstration at Her House, Class Warfare in North Beach, Eviction = Death, Apple Bus Blockaded in Protest of Tech-Driven Displacement.

Links on Luis Gangora Pat, killed by SFPD 4-7-2016
Response to false SF Chronicle article
SF City Attorney Upholds Police Killing
Other Links
Take action, proposed law charges protesters with terrorism