What's wrong with the Medicare Prescription-Privatization law. (See below.)

Gray Panthers, Senior Action Network, Greenlining Institute, Health Care for All, California Alliance for Retired Americans, and other groups held demonstrations in the Summer and Fall of 2003 against California Senator Dianne Feinstein's support of the Medicare Prescription Privatization Bill in Congress.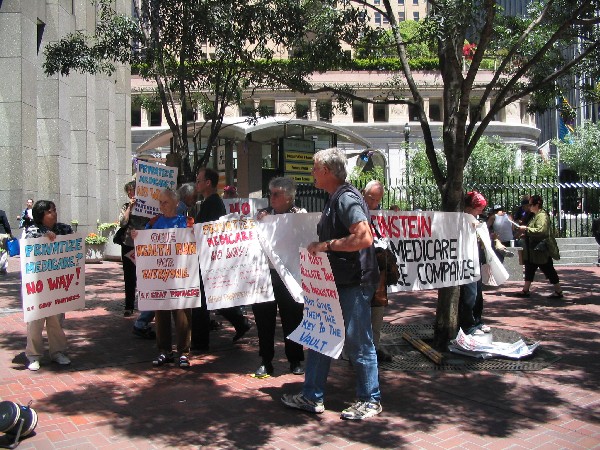 Getting ready. "I hope everybody shows up!"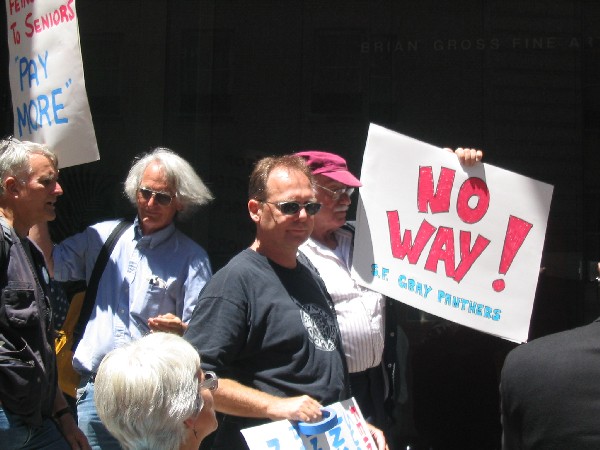 Privatize Medicare? NO WAY!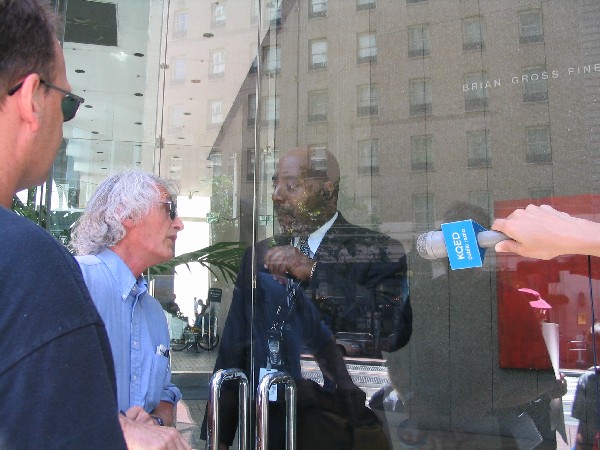 Negotiatiating with the guards at Feinstein's office building. The guard is saying "Yes, of course Senator Feinstein's offices are a public place. Unfortunately, her offices are located in a private building, so you cannot come in." (It turns out Sen Feinstein's offices are in the McKessen Building, owned by one of the largest prescription drug wholesalers. Hmm.)





This is the leaflet we gave out at the Feinstein demonstration.
What's Wrong with the Medicare Prescription/Privatization Bills?
THE PRESCRIPTION PART IS A SHAM:
· It allows drug companies' prices and profits to remain at outrageous levels, refusing to use the mass purchasing power of 40 million Medicare recipients to lower drug costs. Even folks staying on original Medicare, are forced into for-profit drug health plans.

· It covers less than 25% of average prescription costs, and sicker patients must pay a much higher fraction of their drug costs than healthy people. There are no protections against premium or co-pay increases or against reductions in benefits or medicines. Poor seniors and disabled who are also on Medicaid would not qualify.

· 37% of people with better drug coverage in their retirement plans are expected to loose coverage, yet the proposed laws have no protection.
THESE BILLS ARE ABOUT PRIVATIZING MEDICARE:
· One bill allows for-profits to insure healthy seniors, leaving sick and frail patients in Medicare, which will charge 25% higher premiums, according to a suppressed government document. Healthier seniors would be bribed with government rebates to join cheaper stripped-down private health plans. Medicare would not survive with fewer patients, higher costs, and less funding.

· Both bills let HMOs offer increased benefits to lure patients away from Medicare, without much risk of delivering the increased benefits, since HMOs choose healthy customers.

· Both bills give HMOs over $10 billion to develop new profitable Medicare programs, meaning lower benefits. HMOs abandoned over a million on Medicare because they were unsatisfied with their profits.
CUTTING SENIOR AND DISABLED HEALTH IS THE REAL AGENDA:
· 80 million seniors will reach retirement in next decade, with expensive diseases and longer life expectancy; meanwhile we have:

· Rising health costs: HMOs and managed care failed to contain costs.

· Recession: 2 million jobs lost since 2000, highest long-term unemployment since '93.

· Deficits: $350 billion in tax gifts to the rich and the worst budget deficits in 50 years.

· Military expense: $4 billion per month just to occupy Iraq, what country is next?

· Converting Medicaid from entitlement to block grant is part of the same agenda.
THE "BI-PARTISAN" PLAN PASSED BY SENATE DEMOCRATS ISN'T MUCH BETTER THAN THE HOUSE VERSION:
· Both bills attempt to privatize Medicare and prevent regulation of the drug industry.

· Senate Democrats must filibuster whatever comes out of the Conference Committee. Let's see the 35+ Democrats signing the letter to Bush take some action!
WE NEED UNIFIED UNIVERSAL HEALTH CARE,
ONE HEALTH PLAN, ONE LEVEL OF CARE, ONE FUNDING STREAM:
· If Democrats care about healthcare, they need to support the Conyers Bill, HR676.
· Government's splitting us into separate plans and separate benefit tiers result in lowering everyone's care, starting with the poorest and most vulnerable. Everyone is at risk.