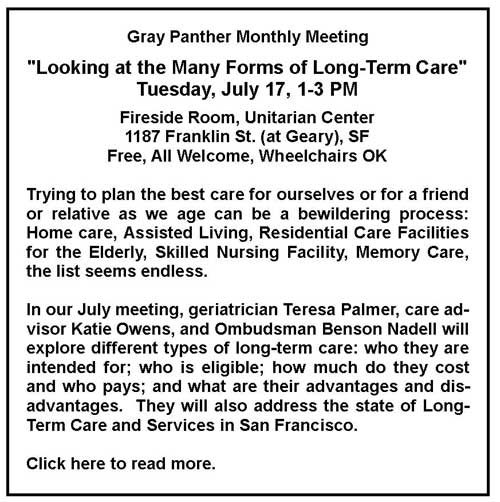 Our speakers will explain how, as we age into different physical and cognitive disabilities, there must be forms of care and services appropriate to all our needs; they all must be affordable and accessible for everyone who needs them; and we must be able to move flexibly between these forms of care as our needs change. All of these forms of care are important, they complement each other, and we cannot sacrifice one to build up another. This is what is meant by a "continuum of care."
July's meeting is a continuation of June's meeting on the fight for universal affordable and accessible long-term care and support. There will be plenty of time for discussion and questions.
Teresa Palmer MD has practiced geriatrics in San Francisco for over 35 years including 15 years at Laguna Honda and 10 years at On Lok/Lifeways Program of All Inclusive Care for the Elderly. She is specifically interested in affordable long term care for all San Franciscans.

Katie Owens is the director of Advanced Approach to Senior Care, an organization which supports individuals to create care solutions through making referrals to assisted living communities and in home care agencies. She is passionate about helping people navigate the complex web of long term care options.
Benson Nadell is Program Director of the SF Long-Term Care Ombudsman Program, re-sponsible for investigating complaints and resolve issues affecting elderly and dependent adults in long-term care facilities. He is a fierce advocate and a widely-known expert on quality-of-care issues in San Francisco and California.