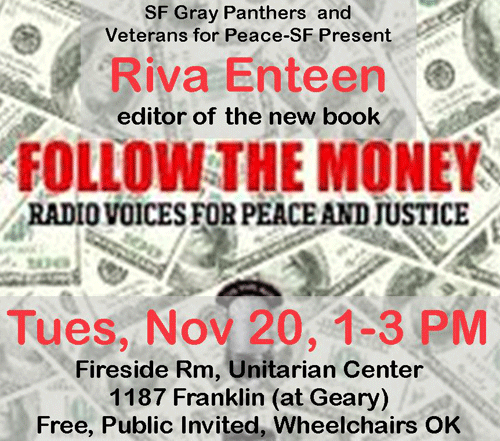 SF Gray Panther Riva Enteen has edited an important new book which she will tell us about in our November meeting.
"Follow the Money" is a transcription of sixty-six interviews on KPFA's Program "Flashpoints" between program host Dennis Bernstein, and people like Alice Walker; Phil Donahue; Ramsey Clark; Laura Flanders; Danny Glover; Marjorie Cohn; Dolores Huerta; John Pilger; Helen Caldicott; Vijay Prashad; Antonia Juhasz; Greg Palast; Brian Willson; Ali Abunimah; and Richard D. Wolff, and has an introduction by Mumia Abu-Jamal.
Interviews are grouped by such themes as The New and Not so New Police State; The Class War; Domestic Dissent; Black Lives; Church, State, Women, and the Criminalization of Sexuality; Migration, Deportation, and US-Latino Culture; Global Militarization and Empire; Ongoing Bloodshed in the Holy Land; and There is No Plan(et) B.
The book has been described as an "encyclopedia of resistance," a "book of hope," which illustrates how "the nation is bursting with movements."

Listen to Mumia on "Follow the Money"
Read the SF Bayview review of "Follow the Money"