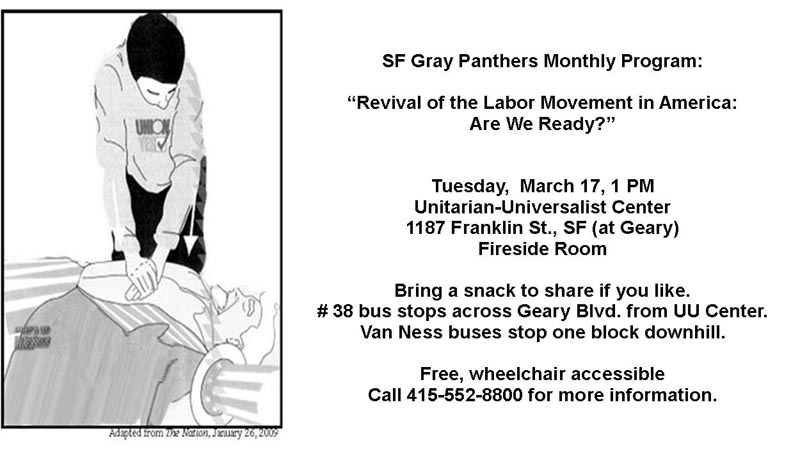 If you believe that a revitalized labor movement must be part of any "change" in our future, come to our March Program.
Our panel consists of:
Earl Gilman, SFGP member, former chapter president of SEIU Local 535, Labor Council delegate, and involved with the Liverpool Dockers and Chilean Bank Workers Union. He will offer a worldwide overview of labor, including NAFTA;
Kay McVay, past president of The California Nurses Association, will speak on positive changes in the CNA, which is deeply involved in the struggle for universal single payer health care;
Denis Mosgofian, past president Local 4-N of the Graphic Communications Conference (GCC) of the Teamsters Union and chair of the SF Labor Council's Economic Crisis Committee, will talk about labor and the current economic crisis; and
Michael Rubin from SEIU Member Activists for Reform Today (S.M.A.R.T.), the workers' organization formed to oppose SEIU's undemocratic tactics, will discuss the urgent need for rank-and-file members to take back their union.
This should be a terrific meeting. Please join us.
Visit the California Nurses Association (CNA) website, and read "Single Payer / Medicare for All: An Economic Stimulus Plan for the Nation" which asserts that he number of jobs created by a single payer system, expanding and upgrading Medicare to cover everyone, parallels almost exactly the total job loss in 2008.

Read the SF Labor Council Economic Crisis Committee's Report and demands for a real plan for economic recovery.

Visit the SEIU Member Activists for Reform Today (S.M.A.R.T.) website.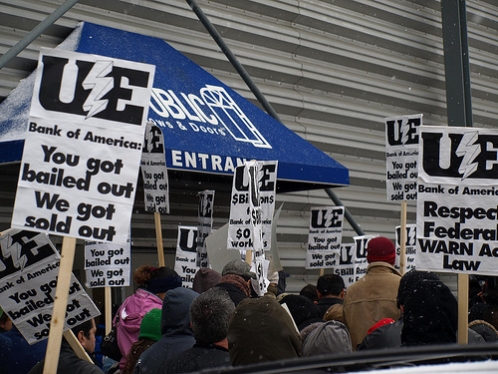 Workers at Chicago's Republic Windows & Door electrified the nation, occupying their
factory after hearing they were being laid off without even vacation or sick leave, and the factory was planning to move to a non-union location out of state. Read more from the SF Bayview, and the SF Gray Panthers Blog.
SF Gray Panthers, 1182 Market St, Room 203, San Francisco CA 94102
Phone: 415-552-8800, fax: 415-552-8801
e-mail: graypanther-sf@sbcglobal.net, web: http://graypantherssf.igc.org/

Location: Market Street, at Hyde and 8th Streets,
One door downtown from Orpheum Theater box office. Map
Surface transit: MUNI 5, 6, 7, 9, and 21 buses, and F streetcar
Underground transit: Civic Center Station for BART and MUNI Metro lines J, K, L, M, and N
For regular membership, committee, and Board meetings, click here.