54 McAllister St. (at 7th St.)

On July 14, 2012 the SF Gray Panthers had a Sing Out in celebration of Woody Guthrie's 100th birthday and a fund-raiser for the SF Gray Panthers. Our performers were Hali Hammer, Bonnie Lockhart, Occupella, and the Rockin' Solidarity Labor Chorus. There were on the importance of Woody Guthrie now and clips about this life and times. It was a huge success.
Thank you, Gray Panther Mary Swope, for these photographs.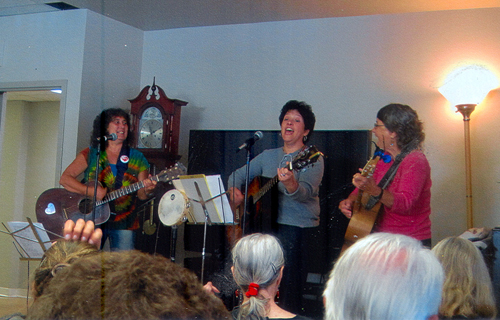 Ocupella: Hali Hammer, Leslie Hasberg, and Bonnie Lockhart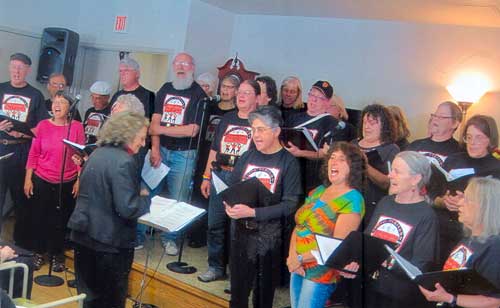 Rockin' Solidarity Labor Chorus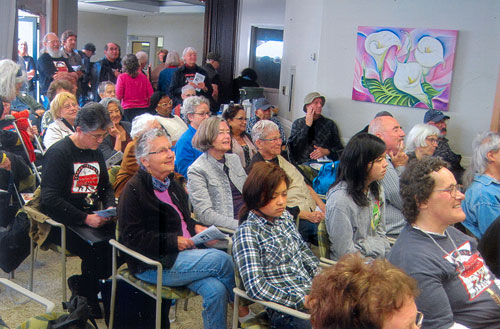 Woody's humor appeals to all ages. (Eventually!)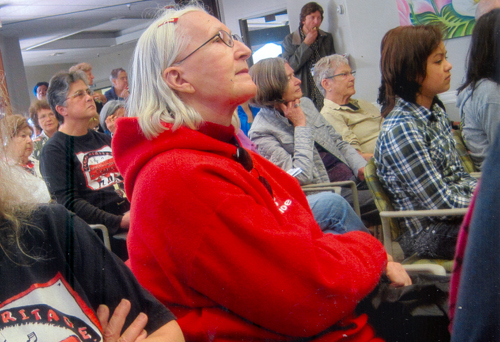 Watching parts of Democracy Now's show on Woody Guthrie. See below.

We showed this video, from Democracy Now, on Woody Guthrie's development as an anti-racist.

Woody Guthrie, folksong writer and singer for workers everywhere, evolved from ignorant racism to a fierce anti-racist. In this video, excerpted from the July 4 Democracy Now program, we hear stories and songs of Guthrie's reaction to a lynching in his hometown and the attack on the leftist singer Paul Robeson in Peekskill, NY. See the whole July 4 Democracy Now program.
Check out our program booklet with the words we sang. (pdf)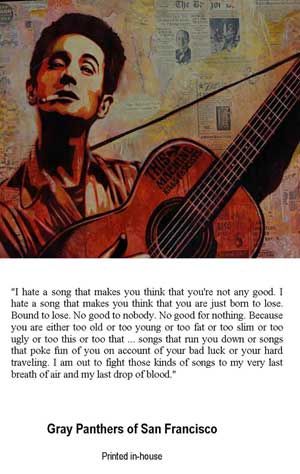 Check out the Official Woody Guthrie website, with a wealth of lyrics, biographical information, and links to other information.
Thank you, Margot Smith of Berkeley, for suggesting this hour-long 1988 BBC film, based on Alan Lomax interviews from 1942.
 
Wikipedia tells us Woody Guthrie, born 100 years ago this July 14, wrote "This land is your land" in response to "God Bless America," which he thought was not only unrealistic, but also complacent. In fact, in 1944, he sang:
As I went walking I saw a sign there
And on the sign it said "No Trespassing."
But on the other side it didn't say nothing,
That side was made for you and me.
And
Nobody living can ever stop me,
As I go walking that freedom highway;
Nobody living can ever make me turn back
This land was made for you and me.
In the squares of the city, In the shadow of a steeple;
By the relief office, I'd seen my people.
As they stood there hungry, I stood there asking,
Is this land made for you and me?