The Bayview Hunters Point area of Southeast San Francisco is a predominantly black area of San Francisco whose problems of low income, high unemployment, poor city services, and police harassment are compounded by the presence of large amounts of toxic and radioactive discarded chemicals, sewage treatment plants, and polluting industry. The result is very high rates of asthma, breast and cervical cancer, and other serious diseases. The 75-year old Hunters Point Power Station is high on the list of pollution sources, and environmental and neighborhood activists have tried for years to shut it down.

On the evening of May 4, 2004, Gray Panthers were part of a gymnasium full of Bayview-Hunters Point residents and environmental and health activists gave an earful to the Bay Area air quality board, demanding that they reject PG&E's petition to operate the 75 year old Hunters Point Power Plant for five more years. Strong pressure from GreenAction and other environmental justice had forced a first-ever hearing on this matter. Activists, parents, and kids described how both children and adults were suffering from high rates of asthma, other conditions of shortness of breath, nosebleeds, fatigue, and nausea. Several speakers talked of how relatives had died from respiratory problems.
They also described how every time the community defeated an argument of why the plant was necessary, the power interests would shift to another argument. The current argument is "reliability," although the plant was shut for months this year for repairs with no blackouts. What was particularly inspiring about the action was the role of youth. There seemed to be a real sense that this is a life and death issue, and it was clear that organizers had made a real effort to engage youth. Several speakers spoke of how South East San Francisco was crawling with police and CHP, supposedly to prevent violence, yet the city was allowing residents to die a slower death from pollution.


Poster for the May 4th Hearing

Facts on the Hunters Point Power Plant

Youth and Community start campaign to shut down HP Power Plant, May, 2001

For women under 40, Hunters Point has highest breast cancer in US

GreenAction web site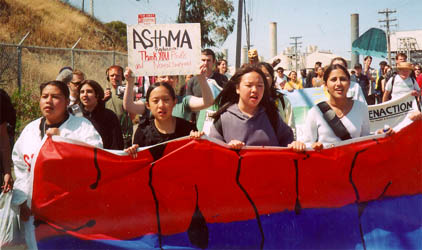 Youth march on May 16, 2001 at beginning of campaign to shut down the PGE Hunters Point Power Plant.