Few cases have captured the anger and imagination, particularly of young people, than the Jena 6 case. Against a backdrop of a youth prison whose racist abuse was so bad the feds shut it down, long-standing Klan activity, the most intense incarceration of black youth in the country, several black high school youth challenged established custom by sitting under a "whites only" tree in the school yard.
The following day, nooses were hanging from the tree, setting off fistfights, threats with firearms, arson at the school, threats by the District Attorney, and a fight resulting in six black youths being charged with attempted murder and conspiracy, charges totaling over 100 years if convicted, while no whites have been punished at all. Meanwhile, more Klan and other racist activity is springing up.
Anti-racists, and particularly anti-racist youth, have mobilized all over the country have mobilized to defend the Jena 6. As many as 60,000 demonstrated in Jena itself on September 20, excerpts of which are in the video above.
Some have said the Jena 6 movement could be the beginning of a new and badly-need long-term mass movement for racial and economic justice. While it is too early to really know, it is an extremly heartening sign, like the massive youth-led demonstrations for immigrant justice two years ago.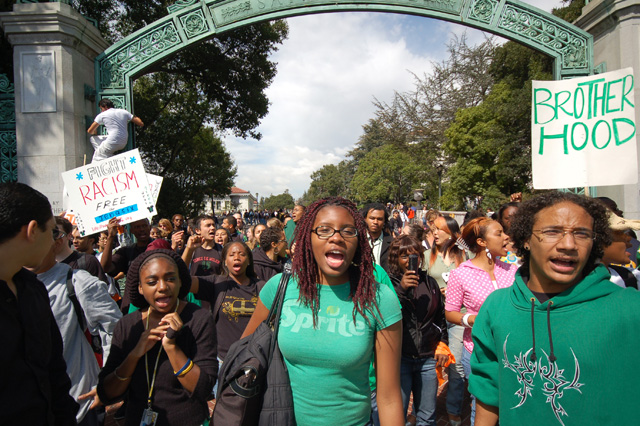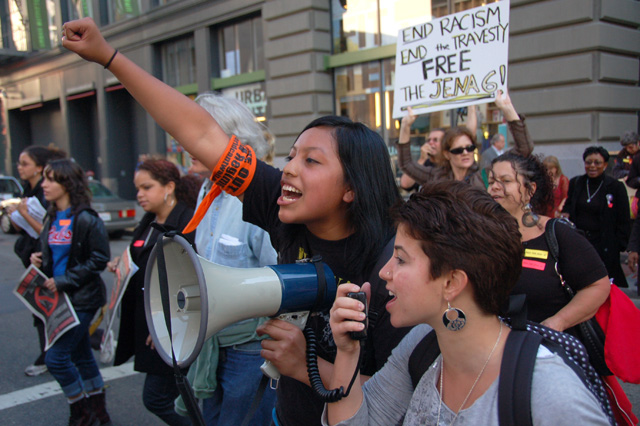 September 20 demonstrations in Berkeley and San Francisco from IndyBayMedia
Democracy Now segments on Jena: 1 | 2 | 3 | 4
National Lawyers Guild Statement on Jena 6
Read SF Gray Panthers blog pages on the Jena 6:
Injustice in Jena: Black Nooses Hanging from the "White" Tree
Jena Schools Bans T-Shirts Supporting the Jena 6
Charges Dropped Against Mychal Bell, of the Jena 6
Jena: The Ignored Story of Legal Lynching
Neo-Nazi group Publishes Addresses and Phone Numbers of Jena 6 Families
First youth, then hurricane evacuees were tortured by Jena Prison Guards