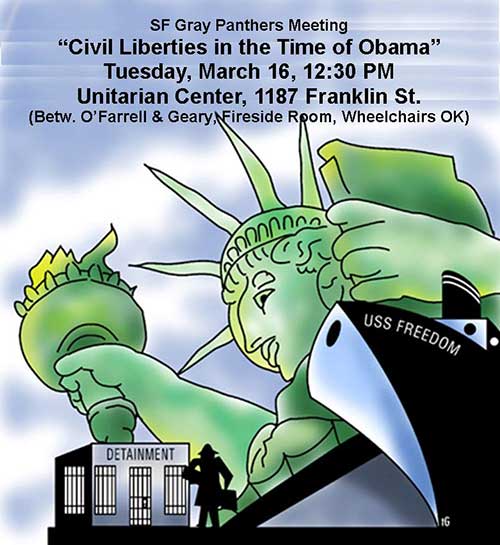 As with war, Obama has been disappointing on civil liberties issues, such as the extension of the Patriot Act, extraordinary renditions, military tribunals, detentions without charges, not charging the architects of torture, not closing Guantanamo, and failure to intervene in the cases of Mumia and Lynne Stewart. Read more.
Similarly, Obama has been disappointing on immigration issues, such as family separations, widespread ICE raids, mass firings, police checkpoints, continued immigrant detention and deportations, and a network of secret detention facilities violating basic rights and needs. Meanwhile an immigration reform bill is being introduced that promises to arouse more controversy. Read more.
Angela Chan, a lawyer from San Francisco's Asian Law Caucus, a leading advocate for civil liberties, will describe the impact of some of these trends, especially for our Sanctuary City policy.
Ms. Chan has been active in fighting the deportation of immigrant youths.
In July 2008, San Francisco Mayor Gavin Newsom implemented a draconian policy requiring probation officers to report all suspected undocumented youth to ICE for deportation right after they are arrested, before they are appointed a public defender or receive a hearing on the alleged charges.
Since 2008, over 160 children have been reported to ICE without regard to their innocence or whether they committed a minor first-time offense.
In response to community outrage, Supervisors passed an ordinance that bars turning over juvenile immigrant arrestees to ICE unless subsequent hearings establish the arrestee was actually guilty, but Mayor Gavin Newsom has refused to implement this law.

See a recent SF Chronicle article on yet another family being ripped apart by Newsom's refusal to implement Supervisor's policy.

See SF Gray Panthers piece "What Happened to Sanctuary City?"

See the Asian Law Caucus PowerPoint presentation, "Deporting Our Future: The Criminalization of Immigrant Youth."

Watch a March 4 Supervisors' Rules Committee hearing where dozens of immigrant and social justice advocates, including SF Gray Panthers, testified about the abuses involving arrests and deportations based on racial profiling, and the need to enforce real Sanctuary City Policies. (Click on item 5 "Implementation of Ordinance No. 228-09, Confidentiality of Juveniles' Immigration Status," 43 minutes into hearing.)

Read Washington Post article about ICE setting new quotas to catch more immigrants with a "surge" in efforts to catch illegal immigrants whose only violation was lying on immigration or visa applications or reentering the United States after being deported, rather than criminals. / See video on the quota.

See a video of students being arrested in Arizona protesting Arizona's SB 1070, which, if signed by the Governor, would make it a crime to be undocumented in Arizona, and would require police to demand documents from anyone they think might not have them, and arrest them if they don't.

Read San Francisco Immigrant Rights Defense Committee community leaflet on deportation of immigrant youth.

Read the SF Gray Panthers position on immigration.

SF and national Gray Panthers join Immigrant Rights groups to demand end to Homeland Security's 287(g) program, impowering local police to enforce national immigration law, and encouraging racial profiling by local police.

The Obama Administration's "Secure Communities" program demands that local police check ALL arrestees' fingerprints against ICE databases and turn undocmented arrestees over to ICE. As the National Immmgration Law Center says ""Secure Communities has a deceptively benign appearance because of its name and purported focus on criminals. But the program applies to immigrants regardless of guilt or innocence, how or why they were arrested, and whether or not their arrests were based on racial or ethnic profiling or were just a pretext for checking immigration status." Read more. / Center for Constitutional Rights sues ICE demanding information on Secure Communities program. As of April 2010, Secure Communites was in 1/3 of California counties and is expanding every month. See more.

Pictures and videos of the historic March and April 2006 demonstrations of immigrant youth and their supporters. A must-see! SF Gray Panthers were there.

SF Gray Panthers and the gigantic 2006 May Day Day demonstrations for immigrant rights and international worker solidarity.

List all SF Gray Panthers articles on "immigration or "immigrant"

short link to this page: http://tinyurl.com/y9c8t8w