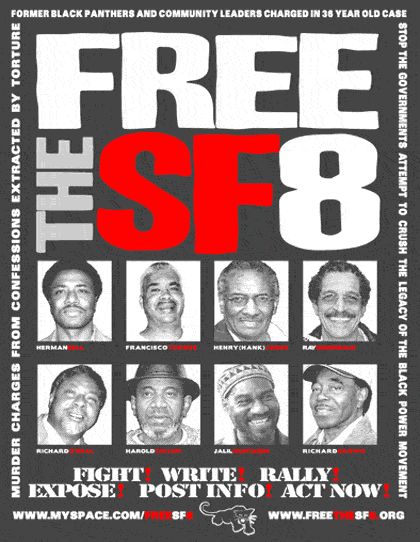 The San Francisco Eight (SF-8) are eight former Black Panthers on trial for the killing of a SF police officer in 1971. In 1973 several Black Panthers were tortured by New Orleans police into making confessions, as part of the FBI's COINTELPRO program. Police tortured them for several days with beatings, sensory deprivation, asphyxiation with plastic bags and blankets soaked in boiling water, and electric shocks and cattle prods to genitals and anus.
Charges based on the forced confessions were dropped in 1975, but reinstated as part of post-9/11 repression, so now, 36 years later, the SF-8 are on trial here. No substantive new evidence has emerged.
See the SF8 website. Read Democracy Now! on the case. Read a Pacifica Foundation statement of support. Hear a Flashpoints interview with SF8 members (about 20 minutes into program).
The 1970s was a period of vicious Cointelpro and police activity particularly against black groups that challenged racism, and the actions taken against the defendants then are a mirror of police activity all over the country at that time. (Read SF8 member Harold Taylor's account of Cointelpro's activities in Los Angeles.)
SF Gray Panthers believes the SF8 must be supported because their prosecution is part of a new wave of racist repression including increased police killings, gang injunctions, and Jim-Crow justice such as the Jena 6 case. In addition, the SF8 prosecution represents the beginning of a new wave of repression to counter future resistance to spreading Mid-East oil wars, more severe cuts in vital services at home, and intensification of the wealth gap.
---
Statement of support by Lynne Stewart:
Lynne Stewart Defense Committee
350 Broadway, Suite 700, New York, New York 10013
tel: (212) 625-9696 fax: (212) 625-3939
www.lynnestewart.org
Advisory Committee

Amiri and Amina Baraka
Terry Bisson
Paul Chevigny, Esq.
Noam Chomsky
Kathleen Cleaver
Elizabeth M. Fink, Esq.
Arthur Kinoy, Esq. (deceased)
Clark Kissinger
Barbara Lubin, M.E.C.A.
Father Lawrence Lucas
Jeff Mackler
Robert Meeropol, Esq.
Michael Ratner, Esq.
Hon. Bruce Mcmn Wright (deceased)
Howard Zinn

Support of the San Francisco 8

An open call to all my friends and comrades and political cohorts,

After a lazy summer, I was called back to action by the fact of the tremendous victory that was won by the lawyers for the San Francisco 8, in state court in San Francisco, when the Judge against the strong opposition of the government (California Attorney General Jerry Brown (!)) set bail. In my 45 year experience as an activist and as an attorney, they just don't set bail in a case that involves the murder of a cop -not in the police state . They especially don't set bail when the defendants are activist black men.

To capsulize the case "the state has accused 8 men, all with Black Panther, or other activist ties in the past, almost 40 years after the event. For all of them except Herman and Jalil, they have lived public lives for nearly all of that time. The crucial point, I believe, is that the state's proof consists of confessions made under torture which were disallowed as coerced and unreliable in legal proceedings in the 1970s. Now, with repression ever looming, they are resurrecting this case to feed the salacious police state, the racism that is flourishing unabated AND, most importantly, to legitimize torture on the home front.
I am assuming your support of the San Francisco 8 and I am asking you to go one step further. We all know how to demonstrate and leaflet and hold events. This is a call from me to all of you, who are able, to act above and beyond by committing your Property and to stand as surety for this bail or to help with the expenses to secure property commitments from others.

It is a tremendous advantage to be free on bail during trial. It enables one to live in a positive, healthy manner and to ORGANIZE. It communicates to the jury and the public that they have nothing to fear and should do absolute justice.

I have spoken with members of the Defense Committee and I can assure you that there is virtually no risk involved. (Indeed, even the Judge so stated when he set the amounts). All of the 6 men have deep family and community roots. Your property will be pledged without any cost to you and minimal hassle. While smaller properties can be used and put together as a package, the Committee's best hope is for California progressives who invested wisely (!) back in the day to come forward. I can tell you that my husband, Ralph Poynter, has offered the equity ($100,000) in the country house and property he owns in upstate NY. As for me, as Judge Koeltl said at sentencing, I am "destitute"­but only financially. I still have the energy and the will to try to organize, and yes, guilt trip everyone into taking a deep breath and doing something concrete, to demonstrate commitment.

In 1983, in one of my earliest political trials the wife of my client was held as a grand jury resister. She was 8 ++ months pregnant and to enable her to deliver the baby in relative freedom and spend the months necessary to nurture her child the Judge set a bail. Ralph put up that bail to the frantic concern of his silent partners. My client was ultimately acquitted and this summer at a Boston event celebrating the Rosenberg fund, we met the baby who was born 24 years ago and is now a vibrant and lovely young woman.
Back when our hemlines were much shorter and our hair much longer, Oscar Brown,jr sang:

Brother, where are you?

Times haven't really changed. We still need to stand up for the political brothers and sisters who are caught up in the legal system. Give them a fighting chance by allowing them to deal with the case from the outside. We need to answer the brothers' call.

I will. Will you ?

Lynne F. Stewart

---
Update on the San Francisco 8
September 2007
by Kiilu Nyasha
It's not often the Movement can celebrate a victory. So I'm delighted to report that we've won the release on bail of five of our six elders eligible for bail -- with one more expected to be out within days. Richard O'Neal and Richard Brown were first, out August 29 and 30th respectively, followed by Ray Bordeaux and Harold Taylor, September 11 and 12th. Hank Jones was released September 18th and Francisco "Cisco" Torres should be out soon.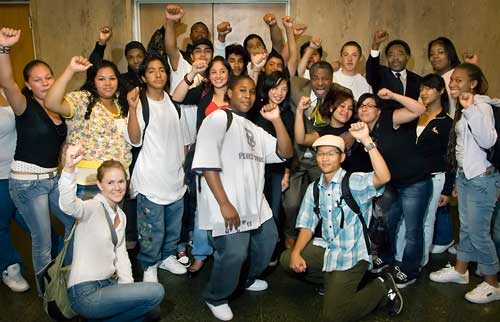 The generation gap took a big hit on September 11 when the two Richards, dressed in suits and ties (instead of orange jumpsuits and chains) warmly embraced supporters outside the Department 23 courtroom before the hearing. Joining the largely elder group of supporters for a joyous and spontaneous celebration in the hall were 20 10th-grade students from Met West High School in Oakland.
Surprisingly, Judge Philip Moscone stopped the afternoon proceedings to make sure the necessary documents for Bourdreaux's bail were signed and delivered by the 3 p.m. deadline so he could be released later that day.
Unfortunately, Herman Bell and Jalil Muntaqim (aka Anthony Bottom), previously known as the New York 3, are not eligible for bail having spent 34 and 36 years, respectively, in New York prisons. They are eligible for parole and both will go to board again in 2008. Since this case has been partly responsible for their continued incarceration, if it's thrown out (as it should be for lack of evidence), a significant barrier to their being granted parole would be removed. For more information on the NY3, go to http://www.kersplebedeb.com/mystuff/profiles/ny3.html.
On August 22, to a courtroom filled with supporters and three rows of police and FBI agents including the infamous torturer, Detective Ed Erdelatz, Judge Moscone announced, "No one is going to be pleased by everything that happens." That said, he reduced the bails of all six brothers, virtually ignoring the Attorney General's call for the original bails to apply. The prosecution wanted bail raised from $3 to $5 million each!
When I visited Harold following the hearing, he asked me what my reaction was to the judge's bail reduction. I confessed I was shocked. He said so was he. We never expected the judge to reduce the bails enough for all to get out. And I surely didn't anticipate his noting the various activities and honors accrued by the defendants or that they posed no danger to "public safety."
For example, in reducing Harold Taylor's bail to $350,000, he cited the dismissal of this same charge in 1975; the acquittal in the so-called "L.A. shootout" in 1976 (John Bowman, Ray Boudreaux and Harold were fired on by police and shot back in self-defense); Harold's employment for 21 years or until his medical condition prevented him from working any longer, as well as his community service.
The judge also noted Hank Jones' honorable discharge from the U.S. Marines (Jones is a veteran, along with Boudreaux and Torres.), Richard O'Neal's Commendation from the S.F. Fire Department for rescuing two people from a fire, and Boudreaux's 30-year marriage and 25 years of employment as an electrician for L.A. County.
The Bail Hearings:
During the bail hearings, defendants' attorneys described these elders' community service. Hank and Ray were founders of the Black Student Union at S.F. State University that achieved organizing the first Black studies programs in colleges and universities nationwide. Richard Brown, 66, spent 23 years mentoring countless young people in the Western Addition, worked 20 at the Ella Hill Hutch Community Center, has been a good father to his 11 children and raised five more, received awards from the Ca. State Senate and Legislature, and the Martin Luther King, Jr. Award.
Richard O'Neal, who lost his wife to random homicide in 1979, raised his son and another child alone, was employed by the City for 35 years. The judge received 60 supportive letters from O'Neal's friends, neighbors and coworkers. One such friend of 45 years, Fannie Sanders, testified that Richard had purchased two burial plots when his wife died; more recently, a friend couldn't afford one for his deceased loved one so O'Neal gave him his plot.
Francisco Torres' attorney described how Cisco, father of two, has been the primary caretaker of his severely disabled son who has sickle cell anemia. Having seen the video Exhibit, the judge commented on how his son, 34, "looks 14." Known for his activism with Vietnam Vets Against the War and his mentoring of troubled youth, Cisco is loved and highly respected in his neighborhood.
More information about all eight defendants is available at www.freethesf8.org.
We must not forget that all these elders were either members of the Black Panther Party or active supporters, committed to serving and defending Black and other oppressed people for life. And their lives are living testimony to that commitment. But it also subjected them to all the dirty tricks of the FBI's vicious counterintelligence program known as COINTELPRO. 37 Panthers were killed and no one has been held accountable! Not to mention countless others still suffering incarcerations of up to 40 years.
In 2003 Detectives McCoy and Erdelatz, who questioned John Bowman, Harold Taylor, and Ruben Scott during the New Orleans torture/interrogations, came out of retirement and were recruited and deputized by the federal government to lead the investigation when the case was reopened sometime in 2002. The decision to re-investigate the incident followed the Department of Justice's expanding prosecution of political crimes in the wake of the September 11th terrorist attacks.
Bell's attorney Stuart Hanlon called the arrests a "prosecution based on vengeance and hate from the '60s." "There's a law enforcement attitude that they hate these people, the Panthers," Hanlon said. "Now they're going after old men."
As in other recent political cold cases, and even some new cases, it seems that the prosecution relied on the grand jury system to gather evidence that had for so long eluded them. In 2005 five former Panthers including Ray Michael Boudreaux, Richard Brown, Hank Jones, Harold Taylor, and John Bowman were jailed for not cooperating with the grand jury.
Take a good look at Amerikan racism and injustice clearly illustrated by such cases as the Scottsboro 9, Mississippi 11, Wilmington 10, New York 21, Queens 2, New York 3, Angola 3, Soledad 7, The Soledad Brothers (3), Los Siete de la Raza, San Quentin 6, MOVE 9, and now the Cuban 5, San Francisco 8 and Jena 6. You'll see a historic pattern of the police State blanketing groups of Black/Brown activists with multiple charges in hopes some will stick so they can jail them for life or execute them.
The real criminals are the fascists in power who continue to conduct illegal wars killing thousands of soldiers, committing genocide on civilians, ripping off other nations' resources as well as our own (At least $9 billion in cash was lost in Iraq and the Pentagon can't account for trillions of your tax dollars!), sanctioning and encouraging massive and illegal incarceration and torture of its own citizens and immigrants, often denied due process or their constitutional and human rights, the most egregious of which is Guantanamo Bay.
This case is based on the Ingleside shooting of a police officer in August, 1971. Three Panthers, Rubin Scott, John Bowman (deceased), and Harold Taylor were captured, tortured in New Orleans in '73, and charged with the murder. In 1975, a judge dismissed the case citing inadmissible evidence, namely, confessions exacted under torture (See Legacy of Torture, a 28 minute video available from Freedom Archives' website: www.freedomarchives.org ).
Discovery issues are yet to be settled by opposing attorneys. The next public hearing will be Monday, September 24, at 9:30 a.m., preceded by a rally at 8:30. This is an important session because the judge will hear arguments about the admissibility of statements made under torture.
With six of the eight out on bail, the Court will hear the collateral estoppel motion for Harold arguing that since a judge excluded coerced statements in Taylor's 1976 L. A. trial in which he was acquitted, that judge's rulings should be respected.
The State has no new evidence despite their claims. The murder weapon was "lost." The DNA taken from all eight prisoners produced no matches, nor did the fingerprints. Apparently, all the prosecution has is the coerced testimony of Rubin Scott whose past statements were proved perjurious by two courts.
Stuart Hanlon, attorney for Herman Bell, summarized a major problem: Although the prosecution has turned over the equivalent of more than 200,000 pages, the documents are so disorganized it is as if those pages were strewn on the floor randomly. After months of effort by 20 workers over hundreds of hours, the defense still cannot locate the documents it needs. In addition, countless portions of the documents, including contact information for every single witness, have been blacked out.
Hanlon also argued that the basis of the current prosecution was supposed to be "new" evidence relating to DNA and ballistics. But where was the evidence?
Michael Burt, attorney for Ray Boudreaux, added that the prosecution denied having DNA reports for over a year, but when reports were provided a few days ago, it was clear the government had had them since 2006 - and they were still incomplete. "We need every test that they have done," Burt said. The defense noted that the partial DNA reports released by the state recently not only show no matches to any of the eight, one of them matches the profile of one of the state's experts, indicating contamination of evidence.
Hanlon added that instead of ballistics reports the prosecution has given them statements by police. "Declarations don't mean a thing," Hanlon asserted. "After 25 years of seeing police lie outright in the case of Geronimo Pratt, I want to see evidence, not declarations."

So come to court on September 24 and bring your friends with you for the rally at 8:30 and to pack the courtroom at 9:30.

Free the SF8!
Long live the spirit of John Bowman!
Free em all!

See Kiilu Nyasha talking on the SF8 case and the bail reductions on Howard Vicini's Cable TV program "My Country."
---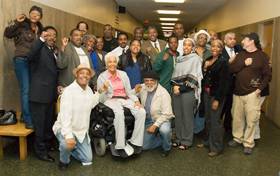 September 24th: Due to attorney schedule conflicts, the collateral estoppel hearing originally scheduled for today in the SF 8 case was re-scheduled until October 10th at 9:30 am.

Spirits were high in front of the courthouse and later in the hallway as 6 of the 8 brothers were present in style, wearing their best, greeting the numerous supporters and speaking with the press. As they noted, their presence in the community and back with their families is unprecedented in a case like this. Community support is what made it possible for them to be out on bail.

More sobering is the fact that they were separated in the courtroom from their co-defendants, Jalil Muntaqim and Herman Bell – Both of whom remain in chains and shackles, both of whom have spent 36 & 34 years in prison so far, both of whom are parole eligible in New York, and both of whom remain an inspiration to their co-defendants and to all of us. Ray Boudreaux, Richard Brown, Hank Jones, Richard O'Neal, Harold Taylor and Cisco Torres were instead, seated in the jury box with their attorneys. (Now that would make a fine jury!)

Judge Moscone did allow the eight to remain in court to confer together once supporters left. This is a very rare occurrence and an indicator of possible future meetings as well as an indicator of how the judge is acknowledging the rights of the defense to work collectively. The eight had been meeting together in the SF County Jail on a weekly basis before they were freed on bail.

Attorney Stuart Hanlon, representing Herman Bell, asked the judge to be aware that issues remain with the obtaining of full discovery in the case.

All SF Police cases use what are called "inspector chronos" or chronological reports. These reports list all acts the police do in the case. The prosecutors have been asked to provide chronos on ongoing attempts to question or pressure some defendant's family members.

"Our concern is that the Attorney General is hiding discovery, or avoiding turning it over, by saying there are various agencies involved and they don't really know, or are not sure, what the different agencies are doing," according to Hanlon. The defense has been demanding an organized and indexed method of turning over hundreds of thousands of pages of discovery (done on DVDs). There continue to be delays despite joint meetings with the prosecutors to expedite the process.
For example, until earlier this month, the reports of DNA tests taken in June of 2006 were not made available. These DNA samples were taken in coordinated, early-morning raids throughout the country and included Jalil Muntaqim being pulled from his cell in New York and transported to another prison by an armed tactical squad (http://www.jerichony.org/jalil.html) in the middle of the night merely in order to swab his mouth. All this suited the media hype and drama that the prosecution orchestrated, but after delays of over a year, all the reports came back negative, matching none of the eight brothers to any evidence in the case.
Regarding supposed ballistic evidence, on a Democracy Now broadcast asked Herman Bell's attorney Stuart Hanlon about an affidavit filed with the court saying in 2004 an FBI investigator matched five of the fifteen shotgun cells recovered from the crime scene to spent shells recovered from a shotgun found at Herman Bell's New Orleans home in '73. But police are now saying they have since lost the shotgun allegedly found at Bell's house. Hanlon replied, "It's fabricated evidence. What they're really saying is, "We found a gun in Herman Bell's house, and we took it to New Orleans, and we test fired it, and we sent the shells to San Francisco 30 years ago, and all of a sudden we found out they match. But you can't test it -- you can't test the truth of our allegations, because we lost the gun, we lost the paperwork, we lost the proof of where we got it, we lost everything but the result. And just trust us that we're not biased, that we're fair, that we're going to produce real evidence in court. Trust us." And it's a joke. It really was for the media and the public, and not for court, because --"
"We are also going to deal with this by getting to the bottom of the mysterious Operation Phoenix – we want to see who is involved, which agencies are doing what, and who is in charge and responsible for what. This way, the prosecutors cannot hide behind 'I don't know.' We will soon be filing motions asking for evidentiary hearings to shed light on this mystery – Operation Phoenix," explained Hanlon.
For more information, see http://www.freethesf8.org/bail.html
---
Defense Motion on Statements Made under Torture Denied
October 13, 2007
In front of a packed courtroom, SF 8 presiding Judge Moscone denied a significant defense motion asking that statements made under torture by Harold Taylor in 1973 be precluded from consideration in this case.

In 1975 a Los Angeles judge ruled these same statements inadmissible in a trial that ultimately resulted in Harold Taylor's acquittal. That case involved a police attack on a car of Black activists in which all three – Ray Boudreaux, John Bowman and Harold Taylor – were fired upon and shot multiple times. After Harold Taylor's acquittal, charges were dismissed against Boudreaux and Bowman.

Randy Montesano, representing Harold Taylor in the current case, argued passionately that the government is continuing in its pattern and practice of trampling on these defendants' rights. "The prosecution is trying to litigate the use of coerced and torture-induced statements again," he said, "because of sour grapes" as the court in the mid 1970s heard 8 days of testimony , including 13 witnesses and concluded that Harold Taylor's statements were not made voluntarily in New Orleans. Montesano argued that they have no right to use these same "statements" just because they didn't like the 33-year old outcome. He reiterated that his client still suffers physically and from post traumatic stress disorder today, some 36 years later.

Judge Moscone denied the motion on narrow legal grounds saying that the Los Angeles decision was not a final adjudication. Moscone did leave the door open for the suppressing of these statements in future hearings. That hearing would force the government to either produce the same witnesses and evidence or face the consequences of the absence of evidence, transcripts and witnesses.

Attorney Montesano reiterated "there is no way to get a fair hearing today, especially given the delay of so many years and the passage of time alone precludes any reliable adjudication…so we will ultimately prevail."

The next hearing in the SF 8 case will be on Monday, December 3rd and will take up further discovery issues as well as requests by the defense to maintain a seal on prejudicial documents that are unsupported by evidence.

---
Please support these brothers by sending a donation. Make checks payable to CDHR/Agape and mail to the address below or donate on line:

www.freethesf8.org/donate.html

Committee for the Defense of Human Rights (CDHR)
PO Box 90221
Pasadena, CA 91109
(415) 226-1120
FreetheSF8@riseup.net